Just got my voting card! (SWEDISH ELECTION 2022)

Spiritual_Chaos
Posts: 26,538
Got my voting card in the mail. 
A voting card is automatically sent out to every citizen of this Country. Yes, including people in jail because their citizenship has not been stripped from them so they are citizens.
We will cast three ballots, as in there being three elections:
The National one 
for the Parliament, the
County Councils 
(runs e.g. hospitals) in and the local
Municipalities
.
From now and until September 11, I can walk to any voting place with my voting card and my ID and place my vote. So I have a bit over 3 weeks to do so.
I can ofc also go on election day, which many chooses to do out of tradition.
The election is always held on the second Sunday in September. Sunday being the day most people are free from work.
87% of the population voted in the last election in 2018.
BRIEF SUMMARY OF WHERE WE STAND:

We have 8 parties in our parliament. During the last election campaign they were separate into two blocks:
The left leaning - "The Red and Green Block"
S (Social Democrats)
V (The Left Party)
MP (The Green Party)
The right leaning - "The Alliance"
L (The Liberals)
C (The Center party)
KD (The Christian Demcorats)
M (The Conservatives)
And we also have a far-right party originating from Neo-Nazism SD (The Sweden Democrats), which until this election no party wanted (or dared due to public backlash) to work with. 
Due to no block getting a majority because of the racist SD getting so many votes there was an unprecedented hassle to get a government formed. In the end, "The Alliance" shattered and The Social Democrats formed a government with The Green Party - supported by The Liberals, The Center party and The Left Party. 
During these four years the hunger for power, and the acceptance by the population of far-right and climate-change denying shit all the parties of the former "The Alliance" have accepted to work with The Swedish Democrats - outside of The Center Party that refuses and therefore has been pushed to the other "block". 
So here is how everything is leading up to the last three weeks before the election: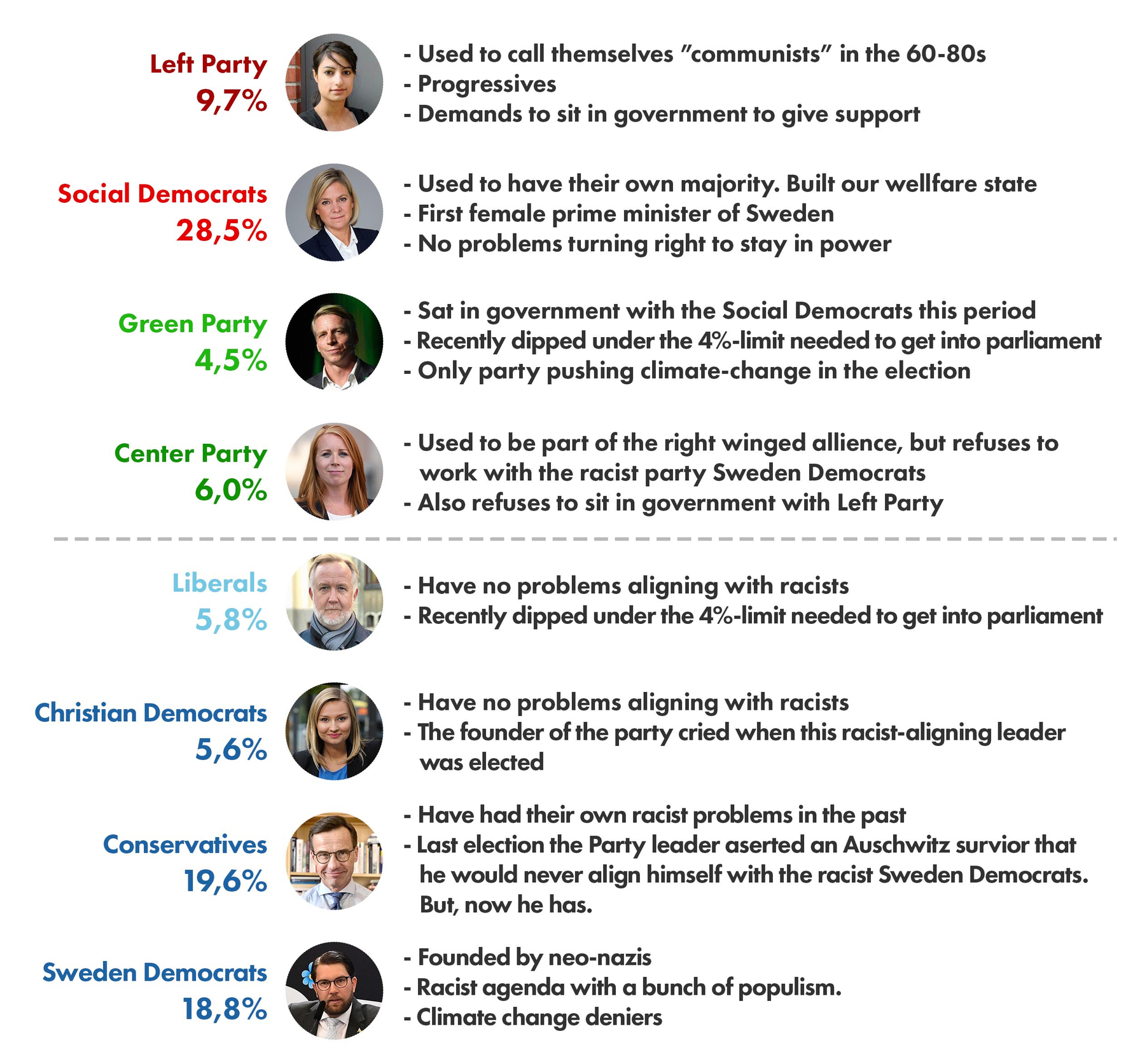 "Mostly I think that people react sensitively because they know you've got a point"