Random act of kindness in OKC !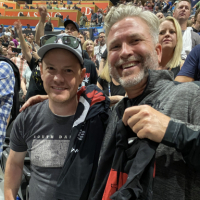 Bobbyclarkgriswold
TULSA OK
Posts: 4
(INSPIRING 😭)
My first PJ concert after being a fan for 30 years!!! 
Met the kindest soul sitting beside me at the OKC concert. We struck it off like we had been friends for years. Talking all things #pearljam and what their songs meant to us. I mentioned to him I had already stood in line for 1/2 hour and opted for the  local OKC Tour Tshirt  and I should of gotten the other also  which read"never give up". we talked about that shirt and how much depth and meaning it had for both of us. He gets up half way through the concert and is gone for a while and returns back and hands me that  tshirt  and says,"it's your first #pearljam concert and it has to be special " 
I was blown away, It actually made me cry! We never exchanged names, he said he doesn't do social media, it was simply a random act of kindness. We will  never meet again but I'll remember it forever! 
It's so very shocking and inspiring in todays climate when you experience kindness, Be kind to people, All people! What an inspiration!
and thank you again if you happen to read this!!!