Auto-Save Draft feature temporarily disabled. Please be sure you manually save your post by selecting "Save Draft" if you have that need.
Best Lyrics from PJ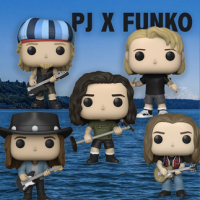 Pap
Aspra Spitia, Greece
Posts: 24,849
In your opinion, what are the best lyrics from PJ?
For me, it would be Love Boat Captain on top. Plus Given To Fly,
Big Wave
, Indifference, You Are, Just Breathe.
Ooh, yeah! All right!
Were [Pearl] jammin
I wanna [Pearl] jam it wid you.
Were [Pearl] jammin, [Pearl] jammin
And I hope you like [Pearl] jammin too.
Sep 30, 2006 - OAKA Sports Hall - Athens, Greece
Jul 11, 2014 - Milton Keynes Bowl - Milton Keynes, UK
Post edited by Pap on