Auto-Save Draft feature temporarily disabled. Please be sure you manually save your post by selecting "Save Draft" if you have that need.
6 Years Ago - A Jet Plane Crashes in my Neighborhood
Bathgate66
Posts: 15,813
265 People Lost
I've lived in the shadows of JFK all my life.
I was at work that day, almost a month to the day of the 9-11 attacks,
and i remember the fear that I had that my loved ones, my family or my friends might be impacted.
Its hard to imagine the horror those people must have felt in the final few moments of life.
Relatively speaking- and not to disrespect any of those lost- but only 5 people on the ground died , and the rest on the airplane . This could have been far worse as far as fatalities- even tho 265 is too many already .
Its interesting that the government and the FAA has stood by their
" story "
of
" wind-sheer "
being the main cause, ( no , this has never happened before- even going back to the days this airport was named Idlewild ) . I remember at the Concert For Heores one of the angry Firefighters claiming his name , and Osama Bin Laden, " kiss my irish ass " -- and finally that he was from Rockaway Beach NYC. Seems a little fishy that this occured where and when it did- thats all I'm saying .
Remembering the victims of Flight 587 crashSix years later, victims of New York jet crash get memorial
Eyewitness News
(Queens, NY - WABC, November 12, 2007) - The six year anniversary of one of the deadliest plane crashes in U.S. history -- Flight 587.

A memorial will be held this morning in Belle Harbor, Queens, where the plane went down on that tragic day in 2001. Mayor Bloomberg is expected to attend today's ceremony for the victims at 9:00 a.m.

The memorial wall is made out of pink granite, and it has windows and doors that open out looking onto the ocean. Over that doorway there is a quote from a Dominican poet says "afterwards, I want only peace." And peace is exactly what many of the victims' families have been looking for.
Exactly six years later, the memory of the day American Airlines flight 587 plunged into a quiet neighborhood in Queens remains fresh.

On the morning of November 12th 2001, flight 587 crashed in Belle Harbor just minutes after taking off from JFK airport for a trip to the Dominican Republic.

The crash killed 260 people on board and five people on the ground. It happened just two months after the attacks on the World Trade Center.

Many of the victims lived in Washington Heights, a neighborhood rich with people of Dominican heritage.

A three year investigation by the National Transportation Safety Board found that the tail of the Airbus A300 fell off shortly after take-off. They also blame inadequate pilot training and overly sensitive rudder controls.

That memorial wall has the victims' names graved on it and family members will be reading aloud their names.

video:
Remembering Flight 587 crash
For the ones who had a notion, a notion deep inside
That it ain't no sin to be glad you're alive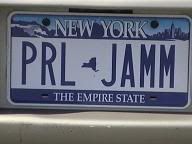 ORGAN DONATION SAVES LIVES
http://www.UNOS.org
Donate Organs and Save a Life
Post edited by Unknown User on
This discussion has been closed.