Auto-Save Draft feature temporarily disabled. Please be sure you manually save your post by selecting "Save Draft" if you have that need.
" ~~~ U2 ~~~ "
Bathgate66
Posts: 15,813
STARS COME OUT TO BID VERTIGO FAREWELL
December 10, 2006
The stars came out tonight in Honolulu to help U2 close out the 5th and
final leg of the Vertigo Tour. Green Day's Billie Joe Armstrong joined
the band for "The Saints Are Coming," and that was followed immediately
by a cover of "Rockin' In the Free World" with members of Pearl Jam.
Larry had the final words of the night: "See you soon...."
see the full set list at U2tours.com >>
http://www.u2tours.com/detail.src?ID=20061209
For the ones who had a notion, a notion deep inside
That it ain't no sin to be glad you're alive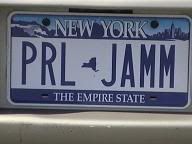 ORGAN DONATION SAVES LIVES
http://www.UNOS.org
Donate Organs and Save a Life
Post edited by Unknown User on