Auto-Save Draft feature temporarily disabled. Please be sure you manually save your post by selecting "Save Draft" if you have that need.
F.R.I.E.N.D.S.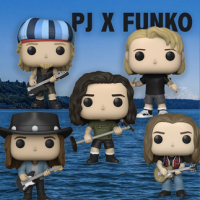 Pap
Aspra Spitia, Greece
Posts: 24,815
I am a proud owner of all the Friends' series and since yesterday I have been watching all the episodes that was aired the same day but some years before. Something similar to what Pearl Jam Radio does with the concerts. Yesterday, I watched from Season 2, the episode #7 (The One Where Ross Finds Out) and from Season 7 the episode #6 (The One With The Nap Partners). Today, I watched from Season 1 the episode #8 (The One Where Nana Dies Twice). What do you think? Am I going to have any followers or you don't like F.R.I.E.N.D.S?
Ooh, yeah! All right!
Were [Pearl] jammin
I wanna [Pearl] jam it wid you.
Were [Pearl] jammin, [Pearl] jammin
And I hope you like [Pearl] jammin too.
Sep 30, 2006 - OAKA Sports Hall - Athens, Greece
Jul 11, 2014 - Milton Keynes Bowl - Milton Keynes, UK
Post edited by Pap on