Spring Cleaning Sale (new items added on 3/6)
Happy Monday, all.
I've decided to thin out the vinyl collection a bit and get rid of a few items that I rarely spin. I'd rather keep the shipping costs down for all involved, so I'd prefer to sell to someone in North America. I have a good reputation here for buying, selling and trading. Please shoot me a pm if you have any questions! Thanks!
Matt
-All LP's have been played, but are in like new condition-Stored properly in a smoke-free home-The prices listed below are the MEDIAN prices on Discogs-Price does NOT include the shipping costs. Those will be determined through USPS rates and whether you want insurance or not.
-Will reduce price if you buy multiple LP's
-PayPal for payments, please.VINYL:

(prices reduced on 3/6)
Audioslave - Out of Exile - $85.00
Black Keys - Brothers RSD edition (numbered with bonus 10") - $65.00
Dead Weather - Live at the Mayan (Third Man Vault; vinyl & dvd) - $50.00
Jimmy Page & the Black Crowes - Live at Jones Beach 10" RSD - $40.00
Jack White & The Bricks - Live at Garden Bowl Lanes (Third Man Vault; vinyl only) - $45.00
Radiohead - Burn the Witch/Spectre 7" - $40.00 --- PENDING
Mastodon - Live at Brixton RSD - $30.00
Green River - 1984 Demos RSD - $25.00
MISCELLANEOUS PJ ITEMS:
(note: if these prices seem off, please let me know. I have nothing to go on with these items)
PJ Live at the Gorge CD boxset (used; box has some wear, cd's are perfect) - $30
PJ Guitar patch - SOLD!!!
PJ Third Man Patch - $20
Stone Gossard Lightning Bolt Guitar pick - $40
PJ Gone Keychain - $30

SHIRTS:
All are size XL unless noted and are in good to excellent condition. Smoke free home.


Wilco Rooster (size L) -$15
Black Keys (size L) - $15
Sonic Youth (size L) - $15
Eddie Vedder Houston - $25
ACL Ames 2009 - $20
PJ ACL 2014 - $20
PJ Stickman 10c shirt - $15
PJ Deep 10c shirt - $15
PJ Seattle 12th man - $25
PJ Green Seattle - $15
*will adjust price if you buy multiple items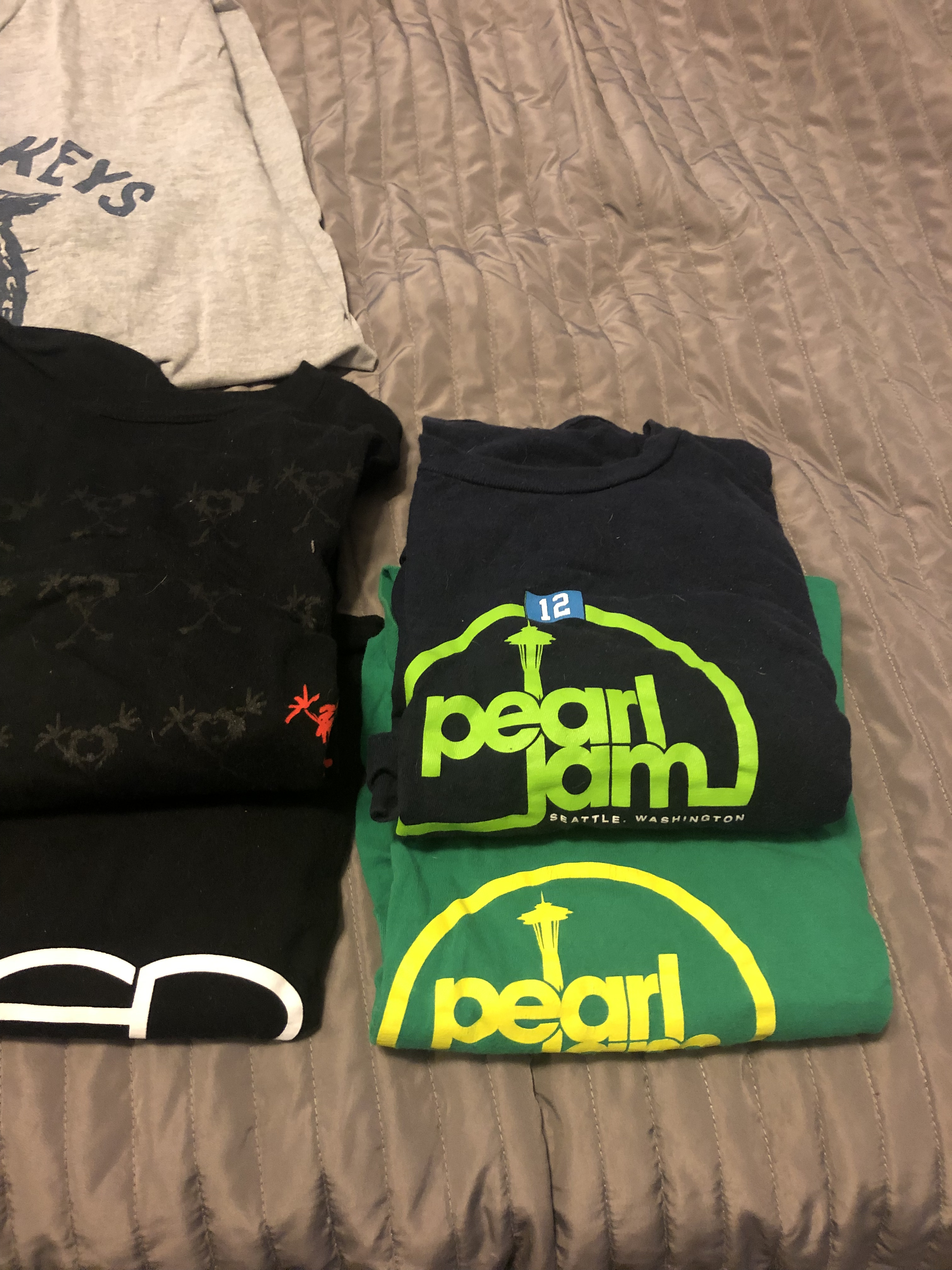 I LOVE MUSIC.
www.cluthelee.com
www.cluthe.com
Post edited by mfc2006 on