Auto-Save Draft feature temporarily disabled. Please be sure you manually save your post by selecting "Save Draft" if you have that need.
ISO Wrigley GA 1 ticket either night. (Please read my story :) )
RB274157
Chicago
Posts: 227
I am from Argentina, I've seen PJ here every time they played in Buenos Aires and once in Chile. I've been trying to catch them in the US forever but my trips are always planned before or after tours (I can't decide when to go). 
My husband is from the US and he has been living in Chicago since september, but I'm stuck in Argentina waiting for my green card (which is taking way longer than it should since it got delayed with the Trump administration). I can go visit him with my italian passport but only for 3 months. And I am planning my next visit around the wrigley shows so I can have a show this  year. 
I don't want a free ticket, I can pay for it, I tried to get it every way I could but I was out of luck and I can't afford the crazy prices people ask online. I can barely afford the plane ticket to get there tbh. Greencards are expensive, trust me!
I am hoping for a miracle, as I know GA is the hardest to get but I will sleep outside Wrigley if I have to to get to the rail with my Argentine flag (I'll hold a spot for the seller if that's allowed :P ). This flag that has a lot of history with Ed in particular. We started this tradition on the first show in Argentina, it was me and 11 other fans. With time it ended up being just me and my dear friend Viky, since we llive in the same city, we always get together before shows and decide what to put on the flag and paint it while listening to the previous show. Every time they played here we got the flag to Ed one way or another. in 2015 we got to talk to him outside his hotel and he thanked us for the flag, told us it was his absolute favorite and that he had 'the whole collection'. Of course this year we painted a new one, but there was no show to go to, so we gave it to him when he came out to greet fans on Monday. He told us he still has them all 'in the laundry room of the house next door' (I know, weird place for a souvenir) and that he recognizes it every time he sees them at shows. 
I want to go to wrigley and bring a new flag with a new message: Come Back. 
My husband is a Cubs fan and he has turned me into a fan as well, we have always been in LOVE with chicago. It's the only other place where I'd die to be able to see Pearl Jam at. 
I really, really want this, more than anything. This cancelled show was heartbreaking for all of us, and it came at a time where I really really needed it. Being apart from my husband for so long is the hardest thing I've gone through and the show was going to be a bright day in a very dark year, I can't just accept that I won't get a show this tour. 
Please please please keep me in mind if the person you are going with bails out. I promise it will be worth it! I would be forever grateful to you!
Here's my conversation with ed from Monday>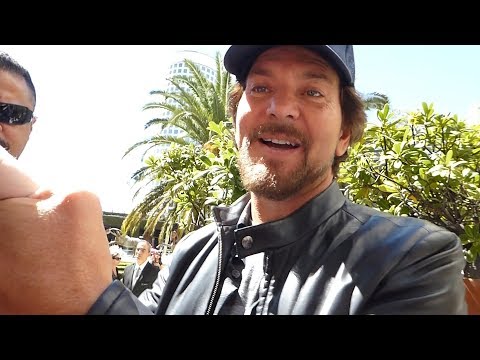 Romy Bianchi
'Your light made us stars'
Argentina '05 '11 '13 '15 and the infamous '18 no-show
Chile '13
Wrigley '18


Post edited by Sea on