Auto-Save Draft feature temporarily disabled. Please be sure you manually save your post by selecting "Save Draft" if you have that need.
4/9/16 Miami Setlist Thread
Longueuil
Posts: 2,182
Venue : American Airlines Arena
Time : 8:00 PM
Really? : Well, last night they started at 8:39 PM...
---
Poster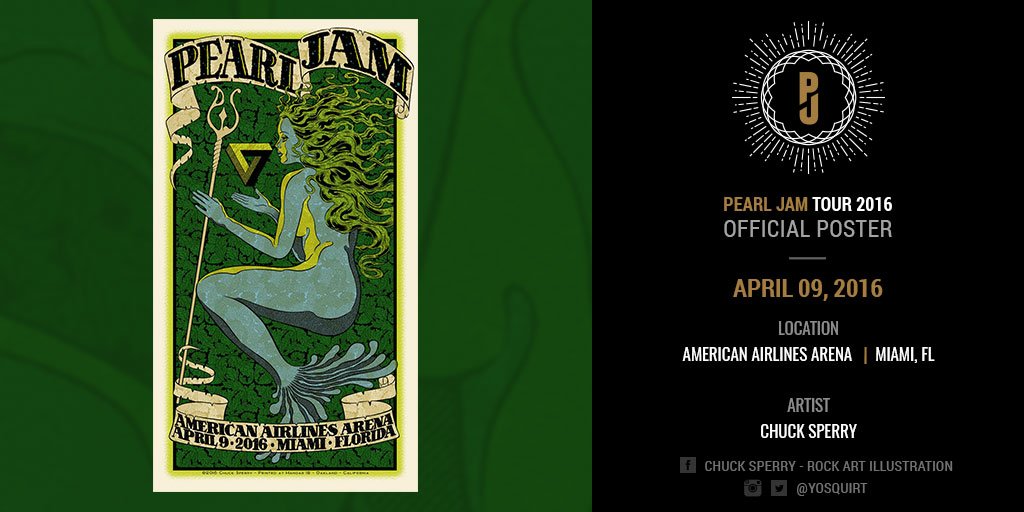 Sticker
---
So.. No one want to do it? Fine, I will.
Things to know :
1- I'm not at the show, so I might skip a song here and there or mixed things a little. My apologies if it happens.
2- If you need a Periscope link, write "Periscope link please". Since it might have more than one Periscoper, when one is down, an other can be provided. Keep in mind that we are limited by the technology but we doing our best to find something that work for everyone.
3- This should be the first rule but here it is : DON'T BE AN ASS. IF YOU KNOW THE SETLIST, WE DON'T WANT TO KNOW IT BEFORE IT'S HAPPENING!
4- Feel free to join the conversation and good show to everyone.
---
Starting time : 8:54 PM
Setlist
1. Corduroy
2. Do the Evolution
3. Mind Your Manners
4. Save you
5. Pilate
6. Dissident
7. WMA (full song)
8. Even Flow
9. Infaillible
10. Daughter (Tag : It's OK)
11. Sad
12. Down
13. Tremor Christ
14. Wishlist
15. Jeremy
16. State Of Love And Trust
17. Rearviewmirror
(End of 1st set : 10:14 PM)
Encore 1
(start : 10:20 PM)
18. Good Woman - Cat Powers (Ed alone)
19. Just Breathe
20. Sleeping By Myself
21. Comfortably numb - Pink Floyd
22. Sirens
23. Once
24. Given to Fly
25. Porch
(End 11:06 PM)
Encore 2
(start : 11:08 PM)
26. Soldier of Love
27. Spin the Black Circle
28. Black
29. Alive
30. Rockin' In The Free World
(end : 11:41 PM)
Post edited by Longueuil on