Auto-Save Draft feature temporarily disabled. Please be sure you manually save your post by selecting "Save Draft" if you have that need.
Blackout Songs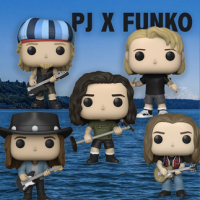 Pap
Aspra Spitia, Greece
Posts: 25,057
1) Jeremy: We played this song a lot of times back in the day and then we decided that we weren't gonna play it... Well, it wasn't that we decided it was just that every time we played it, it literally felt like the roof was caving in on my head and somebody was pouring cream soda on my head and I would start to black out ... And we did it at sound check today and apparently it still happens for some reason... So if I happen to fall on the floor can somebody... Just come pick up the mic and finish the song... ~ Eddie Vedder (01/10/09)

2) Throw Your Arms Around Me: There's one song we're going to play and every time we play it... One of the reasons we don't play it that often is that every time I start to faint about halfway through the song... Every fuckin' time we play it... And then when you wake up out of fainting, it's a real trip... It's like a bad acid trip... I know... But if you help me on that one I'll remind you... ~ Eddie Vedder (25/11/09)
Ooh, yeah! All right!
Were [Pearl] jammin
I wanna [Pearl] jam it wid you.
Were [Pearl] jammin, [Pearl] jammin
And I hope you like [Pearl] jammin too.
Sep 30, 2006 - OAKA Sports Hall - Athens, Greece
Jul 11, 2014 - Milton Keynes Bowl - Milton Keynes, UK
Post edited by Pap on