*** Moline Fanviews Here 10/17/14 ***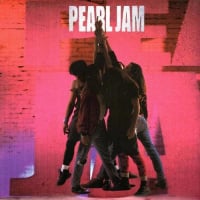 Sea
Earth Posts: 2,812
Pearl Jam
iWireless Center
Moline, IL
Oct. 17, 2014
Set List
Band Onstage 08:18
Band Offstage 11:17
Pearl Jam plays the complete  "No Code" album in order.

01. Elderly Woman Behind The Counter In A Small Town
02. Sometimes
03. Hail Hail
(Mike plays Rick Nielsen of Cheap Trick's checkerboard guitar while Jeff plays his custom checkerboard bass designed to look like Rick's guitar.)
04. Who You Are
05. In My Tree
06. Smile
07. Off He Goes
("Alright, end of side one.")
08. Habit
09. Red Mosquito
10. Lukin (with quiet guitar intro)
11. Present Tense
(The song starts off with Mike's guitar in the wrong tuning so the band stops.  Ed jokes that they are just going to cut that out.  He re introduces Stone and they start the song again.)
12. Mankind 
13. I'm Open
14. Around The Bend
15. Given To Fly
(Ed says that to his recollection they have only played a complete album once before in 1991.   He is grateful that the audience let them play an entire album tonight and now Ed doesn't know what to play.)  Note, for those keeping track the band played the complete Avocado album in Torino, Italy on Sept. 19, 2006 in order.)
16. Interstellar Overdrive-(Barrett, Mason, Waters, Wright)
17. Corduroy
18. Mind Your Manners
19. Brain Of J (Ed starts off singing "Norwegian Wood" but only gets a line or two out before Mike starts playing Brain Of J.)
20. Infallible
(Ed asks Mike if that was Rick Nielsen's guitar he was playing earlier and was it still around?  Mike affirms that it was and he is planning on playing it on one more song later.  Ed asks Mike if he wants to trade Rick's guitar for one of Ed's.)
21. Even Flow
22. Gone
23. Garden
24. Porch (Ed goes out into the middle of the audience to sing the end of the song)

Encore Break 1

(Ed has written a brand new song for the people of Moline but since he wrote it just ten minutes before they went on stage tonight so he needs a few minutes to try and remember it.  After playing around for a bit he seems to have it recalled and starts to play.  He says he can't see so he has Kille turn up the lights a bit.  He explains what the song is about and how it relates to Better Man)
25. Moline (New song written just for tonight. Played by Ed solo)
26. Bee Girl (for Ally, a young girl going to her first concert) 
(Ed thanks the Pearl Jam crew.  He knows they are excited about coming to places they have never been to before like Moline.  "We are going to be talking about Moline for a long time."  He encourages the audience to sing along since there are only a few more opportunities left)
27. Imagine-(Lennon)
28. In Hiding
29. Lightning Bolt
30. Do The Evolution
31. Jeremy
32. Why Go

Encore Break 2

33. Eruption-(Van Halen)
34. Alive
35. Fuckin' Up-(Young)
36. Yellow Ledbetter
(after saying good night Ed realizes that they skipped playing Sirens and they had some requests and dedications.  Ed lists some of the requests and Ed also thanks some folks that they have worked with for a long time.)

Please share your experiences of the show here...the Fanview threads are preserved on the board.

Please keep the Fanview threads for Fanviews. It's ok to begin another thread on discussions of other topics and/or debates.

Thank you!
Post edited by Sea on
Tagged: