Auto-Save Draft feature temporarily disabled. Please be sure you manually save your post by selecting "Save Draft" if you have that need.
LIVE ON 3 LEGS - A definitive 2000 tour compilation
After overdosing on 2008-2010 boots early last year, I decided to go back and finally listen to every show from the illustrious 2000 tour, start to finish. I started making a shortlist of standout versions of songs, and it eventually developed into this - LIVE ON 3 LEGS.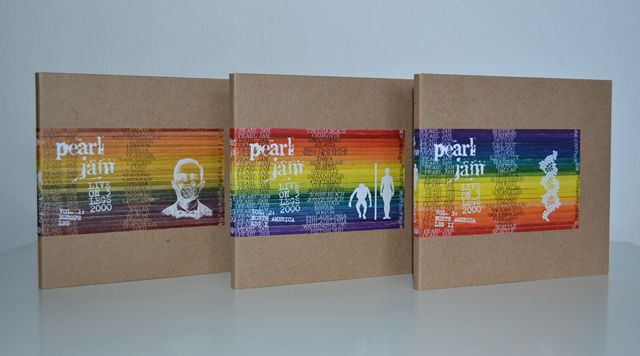 So why do we need another 2000 tour compilation? There have been many great ones in the past (such as Manofthehour's recent effort) but I believe this is the first to pull together a version of EVERY song and improv/tag played on all 3 legs of the 2000 tour (99 tracks in total).
In keeping with the LO2L theme - I decided not to reveal the shows the tracks were picked from (for now anyway). Often when compilations are posted they're greeted with "Rock on - you picked my favourite version of X!" or "You picked the wrong version of Y". The idea is for people to actually LISTEN to each disc on its own merits, rather than just peruse a tracklist of cities and dates.
Some song choices were easy and will be instantly recognisable (e.g. Light Years) while others were more difficult (I had at least 10 versions of RVM shortlisted). The aim was to come up with 6 pretty evenly balanced discs that would each stand up as an enjoyable listen in their own right - with a good mix of hits and rarities, and at least one track from each album.
I worked hard to get the transitions between tracks as invisible as possible. Coming in and out of the improvs was particularly challenging, especially as so many of them preceded RVM and needed to find new homes in front of other songs. I also wanted this compilation to tell a bit of 'the story' of the 2000 tour, with all its ups and downs, so there is some minimal Eddie banter included also.
So enough yakking – let's get to the music! I will be posting this one disc at a time in FLAC and mp3, every 3-4 days for the next few weeks.
Here's Volume 1: Europe – Side A:
Download LIVE ON 3 LEGS
Special thanks to JWB who has had a go at remastering the Europe discs to bring the sound quality closer into line with the near flawless NA legs (you can actually hear Jeff!). I've also posted an original untouched version of the Europe discs for the purists.
As for the artwork – I will be releasing the full version once all the discs are up so as not to give away the song selections. If you feel inclined to make hardcopies of this set, I highly recommend shooting an email to
Kufala
to order some blank 2CD chipboard covers (only $1 each) to house the discs, and then print the labels. However, I will be posting a jewel case version of the artwork also.
Needless to say this took a lot of work so I'm really glad it's finally complete – hope you all enjoy listening to it as much as I enjoyed making it!
Here's the full tracklist:
VOL 1: EUROPE
Side A
1. Of The Girl (Lisbon 2000-05-23)
2. Do The Evolution (Lisbon 2000-05-23)
3. Hail Hail (Landgraaf 2000-06-12)
4. I Got Shit (Katowice 2000-06-16)
5. Light Years (Landgraaf 2000-06-12)
6. Pilate (Cardiff 2000-06-06)
7. Not For You (Milan 2000-06-22)
8. Thin Air (Milan 2000-06-22)
9. Improv (Salzburg 2000-06-18)
10. Jeremy (Katowice 2000-06-16)
11. Off He Goes (Katowice 2000-06-16)
12. In The Colosseum (Verona 2000-06-20)
13. Black (Ljubljana 2000-06-19)
14. Timeless Melody (Praha 2000-06-14)
15. Improv (Berlin 2000-06-25)
16. Go (Dublin 2000-06-01)
Side B
1. Sometimes (Berlin 2000-06-25)
2. Last Exit (Lisbon 2000-05-23)
3. Gods' Dice (Stockholm 2000-06-28)
4. Given To Fly (Milan 2000-06-22)
5. Nothingman (Manchester 2000-06-04)
6. Lukin (Nürnberg 2000-06-11)
7. Insignificance (Verona 2000-06-20)
8. Improv (Nürnberg 2000-06-11)
9. Rearviewmirror (San Sebastian 2000-05-26)
10. Garden (Milan 2000-06-22)
11. Improv (San Sebastian 2000-05-26)
12. Smile (Katowice 2000-06-16)
13. Soon Forget (Zurich 2000-06-23)
14. Rockin' In The Free World (Stockholm 2000-06-28)
15. Daughter Tag Mix (Europe):
---- In The Mood (Oslo 2000-06-29)
---- Hold On (Oslo 2000-06-29)
---- On A Rope (London 2000-05-30)
---- Without Your Love (London 2000-05-30)
---- Blitzkrieg Bop (Hamburg 2000-06-26)
---- I Believe In Miracles (Hamburg 2000-06-26)
---- Another Brick In The Wall (Part 2) (Katowice 2000-06-16)
---- Love Me Two Times (San Sebastian 2000-05-26)
---- Stop Your Sobbing (Berlin 2000-06-25)
---- Call/Response (Milan 2000-06-22)
---- Behind Blue Eyes (Eiffel 2000-06-09)
VOL 2: NORTH AMERICA LEG I
Side A
1. Long Road (Virginia Beach 2000-08-03)
2. Interstellar Overdrive (Indianapolis 2000-08-18)
3. Corduroy (Indianapolis 2000-08-18)
4. Grievance (Saratoga 2000-08-27)
5. In My Tree (Saratoga 2000-08-27)
6. Nothing As It Seems (Indianapolis 2000-08-18)
7. Improv (West Palm Beach 2000-08-09)
8. Even Flow (Philadelphia 2000-09-01)
9. Daughter (Virginia Beach 2000-08-03)
10. Untitled (Philadelphia 2000-09-02)
11. MFC (Philadelphia 2000-09-02)
12. I Am A Patriot (Boston 2000-08-29)
13. Breath (Philadelphia 2000-09-01)
14. Wishlist (Washington DC 2000-09-04)
15. Soldier Of Love (Cincinnati 2000-08-20)
16. Improv (Charlotte 2000-08-04)
17. Leaving Here (Washington DC 2000-09-04)
Side B
1. Oceans (West Palm Beach 2000-08-09)
2. Animal (Boston 2000-08-30)
3. Spin the Black Circle (Saratoga 2000-08-27)
4. Tremor Christ (Tampa 2000-08-12)
5. Faithfull (Jones Beach 2000-08-23)
6. Rival (New Orleans 2000-08-14)
7. Small Town (Philadelphia 2000-09-01)
8. Improv (Boston 2000-08-30)
9. Evacuation (Boston 2000-08-30)
10. Present Tense (Charlotte 2000-08-04)
11. Throw Your Arms Around Me (Indianapolis 2000-08-18)
12. Wash (Pittsburgh 2000-09-05)
13. Leatherman (Pittsburgh 2000-09-05)
14. I Got You (Pittsburgh 2000-09-05)
15. Yellow Ledbetter (Virginia Beach 2000-08-03)
16. Daughter Tag Mix (NA):
---- WMA (West Palm Beach 2000-08-10)
---- Improv (San Bernardino 2000-10-28)
---- Don't Be Shy (San Bernardino 2000-10-28)
---- The Wrong Child (Nashville 2000-08-17)
---- Androgynous Mind (Tampa 2000-08-12)
---- Beautiful Way (Los Angeles 2000-10-24)
---- Beginning To See The Light (Saratoga 2000-08-27)
---- Improv (Sacramento 2000-10-30)
---- Improv (Lubbock 2000-10-18)
---- Bull In The Heather (Seattle 2000-11-05)
---- Improv (Boise 2000-11-03)
---- It's OK (Jones Beach 2000-08-24)
VOL 3: NORTH AMERICA LEG II
Side A
1. Release (Chicago 2000-10-09)
2. Brain Of J (St. Louis 2000-10-11)
3. Red Mosquito (Chicago 2000-10-09)
4. Dissident (Toronto 2000-10-05)
5. Sleight Of Hand (Toronto 2000-10-05)
6. Romanza (Boise 2000-11-03)
7. Better Man (Boise 2000-11-03)
8. Everyday (Lubbock 2000-10-18)
9. Improv (Houston 2000-10-14)
10. Last Kiss (Las Vegas 2000-10-22)
11. Porch (East Troy 2000-10-08)
12. Crazy Mary (Phoenix 2000-10-21)
13. Crown Of Thorns (Las Vegas 2000-10-22)
14. Mankind (Las Vegas 2000-10-22)
15. Parting Ways (Seattle 2000-11-06)
16. Sonic Reducer (St. Louis 2000-10-11)
17. Fuckin' Up (Montreal 2000-10-04)
Side B
1. Breakerfall (East Troy 2000-10-08)
2. Whipping (St. Louis 2000-10-11)
3. State Of Love And Trust (St. Louis 2000-10-11)
4. In Hiding (Lubbock 2000-10-18)
5. Improv (Montreal 2000-10-04)
6. Habit (Fresno 2000-10-27)
7. Can't Help Falling In Love (Las Vegas 2000-10-22)
8. Immortality (Toronto 2000-10-05)
9. U (San Bernadino 2000-10-28)
10. Don't Be Shy (Boise 2000-11-03)
11. Improv (Portland 2000-11-02)
12. Once (Houston 2000-10-15)
13. Footsteps (Houston 2000-10-15)
14. Alive (Seattle 2000-11-06)
15. The Kids Are Alright (Seattle 2000-11-06)
16. Baba O'Riley (Toronto 2000-10-05)
17. Indifference (Toronto 2000-10-05)
18. Yellow Ledbetter Tag Mix*
*As I did not create the Yellow Ledbetter Tag Mix, I don't know the source of the various tags - please feel free to have a go at identifying them though
2003-02-19 Melbourne
2003-02-20 Melbourne
2006-11-13 Melbourne
2006-11-14 Melbourne
2006-11-16 Melbourne
2009-11-22 Sydney
2011-03-18 Sydney
2011-03-19 Sydney
Post edited by Unknown User on