Auto-Save Draft feature temporarily disabled. Please be sure you manually save your post by selecting "Save Draft" if you have that need.
FS: Pearl Jam Stuff (shirts, posters, etc) ANOTHER PRICE DROP 9/16!
Hey everyone,
I'm starting to clean out some stuff and will be posting more stuff in the next week or so. Let me know if you have any questions or if my prices seem off. If they're off, they shouldn't be off by much. All shirts have been well taken care of in a smoke-free home. 
Thanks,
Matt
NOTES:
-US only 
-Prices do not include shipping
-Will discount overall price if you buy multiples
SOLD!!—Cream Pineapple Bomb XL T-shirt - $50 (like new)

Blue 2002/2003 Tour L/XL T-shirt - $25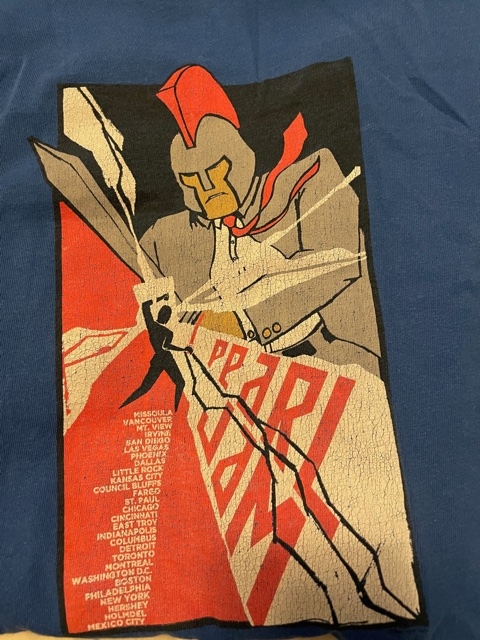 Red 2007 Euro Tour L/XL T-shirt - $25

Cream 2008 Tour L T-shirt - $25

Eddie Vedder Black Dallas XL T-shirt - $25

BUY ALL (remaining) SHIRTS for $80.00!


Pearl Jam Guitar Anthology Hardback book. - $40 (sealed)
Note: I contacted 10C awhile ago to make that this as ok to sell since it's still in the shop & they gave me the green light. Long story short, I have 2 copies & this copy is still sealed in the box. Here's the shop listing for more info: 
https://shop.pearljam.com/collections/misc/products/pearl-jam-anthology-the-complete-scores
POSTERS:
Pearl Jam - 2018 Fenway (Whalen - M/NM) - $55
Pearl Jam - 2020 Oklahoma City (Munk One - still in tube) - $55
Black Keys - 2012 ACL (Slater - M/NM) - $55
OTHER:
Pearl Jam - Live at the Gorge 05/06 7CD box set (used; cds in M/NM condition) - $30
NOTES:
-US only 
-Prices do not include shipping
-Will discount overall price if you buy multiples
I LOVE MUSIC.
www.cluthelee.com
www.cluthe.com
Post edited by mfc2006 on